Find your
voice

, build your

confidence

and speak with

clarity

.
Feeling unsure about your communication skills? You're not alone. My 1:1 Coaching Packages are tailored to help individuals just like you build confidence and master the art of communication. Don't let self-doubt hold you back any longer. Invest in yourself and see the difference a communication coach can make.
Thanks Sandra Valks for sharing your experiences to help us recognize ours in a more positive way of thinking, doing, saying and achieving our goals for body mind and soul. I wish you all the best in everything you do.
Valerie Campbell
2023-03-14
Sandra is consistent in her attitude towards providing the facts and only the facts that are necessary to move individuals forward in attaining their personal and professional goals. I am very proud to know as a fellowToastmaster, collegue and friend.
Sandra comes to you with a lifetime of experience. Trained as a teacher, she uses these skills in all that she does to help others to advance and learn. Her decades of service in Toastmasters International have helped her hone her speaking, leadership, and communication skills. Her involvement in community provides an example of the importance of community in our lives; as a member of Grandmothers helping Grandmothers in Africa, helping new Canadians settle and climatize to our culture, guiding Toastmaster clubs in prisons, encouraging women in business to rise to the challenge of leadership and improve their job positions. Sandra is well qualified to help you advance in your world.
Andrew Gilchrist
2023-03-13
Fun to work with. And if Sandra has something to say, she tells it to you straight with your best interests in mind so you can learn from it.
Sandra's zest for life and natural exuberance shows through in all her actions. She is a talented communicator with an ability to see through to the heart of a problem and suggest practical straight forward possible solutions. I have enjoyed knowing and conversing with her for some years now and always part with a smile and a fresh outlook. Sandra's own life experiences make her a natural as a life coach. Been there, done that and still standing!
Bay of Quinte GPO CA
2023-03-09
Sandra was amazing to work with! She helped our whole team communicate more effectively! Cannot recommend highly enough.
Sandra is amazing. She's dedicated, personable, and great at what she does. I highly recommend her.
Loveleen Ayebare
2023-03-09
Ever since we knew each other, you have brought out everything in me that I didn't know I had. You gave me the confidence to dream big and achieve scary and exciting goals. Working with you as my coach has shown me that everything is possible. You are a coach who is patient and who strives to bring the best out of people. The confidence you instilled in me showed me that I can be anything I want to be. I am glad we crossed paths.
Sandra is fabulous! She is a good listener and an excellent speaker who exudes confidence and makes everyone else feel good with her depth of knowledge and her sense of humour..
Plus, join my private community on Facebook.
More Real Unedited Reviews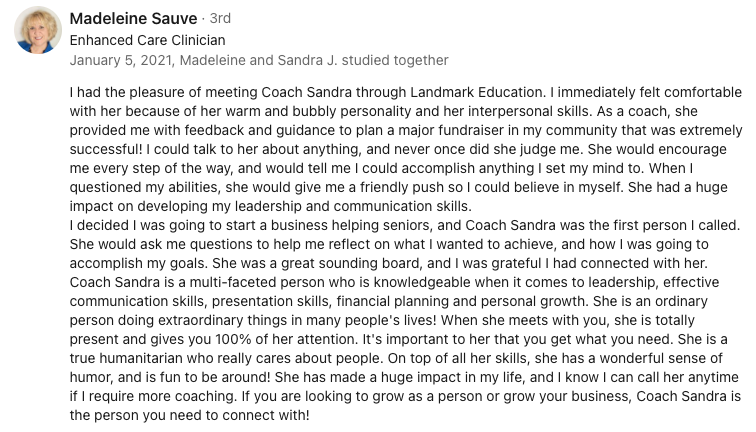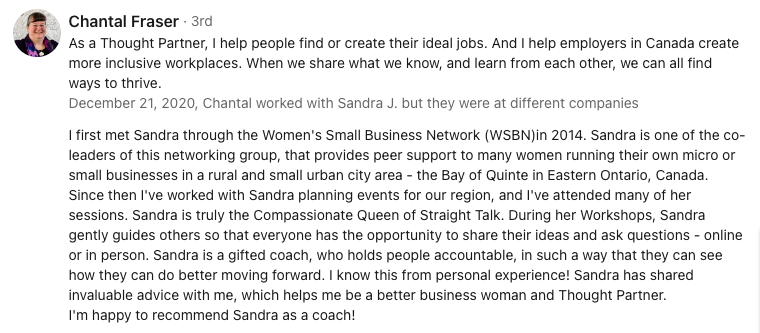 Once Per Month
Best for brushing up on your skills.
1 Hour 1:1 Coaching Session

Unlimited Support by Whatsapp and Email.

Pick Times That Suit You.
Twice Per Month
Address significant pain points.
Save $50 and get 2 x 1:1 Coaching Sessions (1 hour each).

Access Premium Content at no extra charger.

Plus everything included in lower tier.
Once Per Week
Overcome substantial blockers.
Save $100 and get 4 x 1:1 Coaching Sessions (1 hour each).

Access Premium Content at no extra charger.

Plus everything included in lower tiers.
Not Sure Which Package is Right For You?
Not sure which coaching package is right for you? That's okay! Book a free discovery call with me today, and let's chat about your needs and goals. Together, we'll find the perfect coaching package for you and start you on the path to becoming a more confident and effective communicator.